A crimper is simply a tool to merge two pieces of components. This is done so by deforming one or both of the materials through the use of the tool. Crimpers also provide a firm bond between the workpiece and a non-metallic component.
Crimpers can be also defined as a multi-functional tool, which provides aid in operations like bending, cutting, stripping, and so on. Although normally designed for specific wires, cables, and pipe sizes, some crimpers work with several models as well.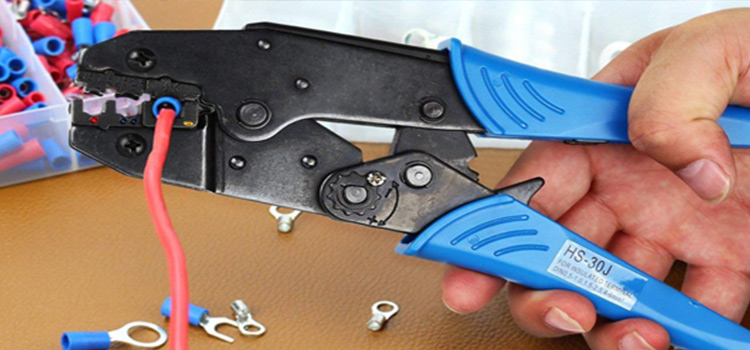 What is a Crimper
A crimper is a unique device used to fuse two pieces of materials or components by deforming one or both of them. It is a diverse tool used in mainly electrical and mechanical applications. The tool combines the metals by making use of pressure and as a result, they hold each other quite well. The final work is called a "crimp".
This tool makes welded joints at low temperatures which are also known as colt weld joints. The connector and the wires are enjoined together by deforming either one or both of them. In applications where a strong bond between the workpiece and a non-metallic component is desired, a crimper is used.
How a Crimper Works
For starters, each wire is placed into the connector. Then, this combination of wire and connector is placed into the crimping device or crimper. Once you have the connector and the wire in place, you have to press the handle and squeeze them together.
The process of crimping will puncture the plastic connector and as a result, the wires will attach quite effectively. Consequently, the crimp will allow data to transmit through the connector.
Uses of a Crimper
Crimpers come in different shapes and sizes and can be used in many settings. However, the fundamental use remains the same for all types of crimpers, which is to create a firm bond. These tools set the wires precisely to the connectors and form an exact electrical bond.
Crimper in Metalworking
A crimper is mostly used in the metalworking process. Some of the applications involve correcting the bullets in their cartridge cases, securing lids on metal food cans, and so on. Besides, crimp tubes play a vital role in manufacturing jewelry. It does so by creating secured joints in case of a fine wire.
Crimper with Connectors
One of the most useful uses is the attachment of connectors to the end of electrical cables for rapid but lasting connections. For instance, RJ-45 and RJ-11 connectors are connected to both ends of the phone or Cat-5 cable by using a crimper to construct network cables and phone cables.
Types and Categories
According to the application, crimpers can be of various types. They include auto electrical, mini, PEX, amp, RJ45, RJ9, bootlace, etc. Other than these, crimpers can also be categorized according to their operating methods. Handheld, electrical, benchtop, pneumatic, hydraulic, etc. are some of the examples.
Conclusion
A crimper is one of the handiest tools in the metalworking process. Electricians, mechanics, and engineers are frequent with the heavy use of such tools whenever they are concerned with installment or replacement of cables and wires. This article should provide you with a general idea of a crimper and what it does.