A switch or hub is used to create a physical star topology. Routers are devices that connect multiple subnets. And a repeater is a device that regenerates a network signal so that it can be transmitted over greater distances.
Each network node in a star topology is linked to a central device known as a hub or switch. Star topologies are also often utilized with LANs. According to some experts, only switch-based networks have a real star topology.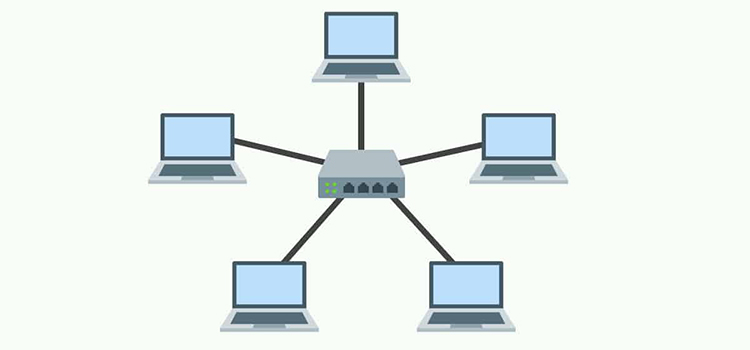 What Device Is Used to Create a Physical Star Topology
For LANs, star topology has become the dominant physical structure. ARCNET popularized the star, which was later adopted by Ethernet. Each node is directly connected to a central device, such as a hub or switch.
The central site is vital in a star topology; if it fails, all of the connections fail. The performance of the link is determined by the performance of the central hub. In a star topology, two nodes may be physically separated from each other; however, they must communicate through a central node.
Hubs and Switches in Star Topologies
In this stage, we'll look at what a hub or switch does in a star network.
The Ethernet Hub
bus topology has been phased out in favor of star topology, which features a central connection point. This was originally a hub. Each device was attached to it by a separate UTP cable that connected to one of the hub's ports.
A signal will have picked up some noise on its journey to the hub. As long as the noise does not cause the signal to exceed a certain threshold, the hub may replicate each bit, thus eliminating the noise. This is referred to as regeneration. Errors occur during regeneration if there is too much noise: a binary 1 may be regenerated as a binary 0 or vice versa.
Switch-Based LANs
A switch, as opposed to an Ethernet hub, learns the address of each device attached to its ports by inspecting the source addresses in the Ethernet frames it receives. It then creates a table that maps each device to the port to which it is connected.
This table allows it to switch incoming frames to the relevant device based on the destination address in the incoming frame. If the destination address is not found in the switch's table, the switch acts as a hub and sends the frame out on all ports. Modern switches may switch traffic between many ports at the same time.
How Star Topology Works
Computers in a star topology are not connected to one another, but rather to a single hub or switch. When a computer delivers data to other computers on the network, it is routed through the cable to a central hub or switch, which selects which port the data should be sent through to reach its intended destination.
Features of Star Topology
In star topology, all cables connect to a centralized location. Here only the computer attached to that cable is unable to use the network if a cable breaks or fails. Scalability is provided by a star topology.
Computers are easily added or withdrawn from the central connection point, which is commonly a hub or a switch, as the network grows or changes. And because so much cabling is utilized to connect separate computers to a central point, the cost of growing and maintaining the network may rise.
Advantages of Star Topology
Some key advantages of the star topology network are described below.
User-Friendly
New nodes may be readily added to a star topology without disrupting the rest of the network. Similarly, components may be simply removed. As a result, it is simple to add another computer to the network, and it is also simple to replace a malfunctioning unit to maintain productivity levels.
Reliable and Efficient
If one cable or gadget breaks, the others will continue to function. As a result, the failure of one node or connection does not affect the remainder of the network. This makes the system very reliable.
Because each device connects to the central core with its connection, the possibilities of data collisions are low. This also means that the system's performance levels are particularly high when compared to other network architectures. It makes the system more efficient than others.
Multiple Star Topologies Can Be Created
By constructing numerous stars with a central core device in the middle as a server, you may increase the length of the network when utilizing star topology. However, for this strategy to work, the network must have adequate power to sustain all activity.
Disadvantages of Star Topology
Some key disadvantages of the star topology network are described below.
Highly Reliant on The Core Device
The central network device influences the network's performance and the number of nodes it can support. If the hub fails, everything fails since none of the devices can function without a hub. The disadvantage is that if the central device fails, the entire network goes down.
Prone to Damage
The cables or wires used in a star topology network expose the network to more potential harm. To reach the desired workstations or peripherals, it must go behind walls, beneath floors, and via other impediments. Furthermore, if the LAN involves installation work on the building's outside, it may be vulnerable to changing weather conditions or wildlife disturbances.
Frequently Asked Questions
What type of cables are used in star topology?
Coaxial cable or RJ-45 is required in the star topology network. It is entirely dependent on the type of network card installed on each machine.
Conclusion
Star network topologies are used in residential networks, where the central connecting point might be a router, switch, or network hub. Unshielded Twisted Pair (UTP) Ethernet cabling is commonly used to link devices to the hub, however coaxial cable or optical fiber can also be utilized.