Normally we use continuity testing to check if a circuit, PCB, or cable is continuous or not. It also helps us to check if a bulb is burnt out or not. Simply we can do the test by using a battery and a led or buzzer. But they are not precise or accurate.
Usually, we use a continuity test multimeter which is a bit costly and bulky too. Also, these give a positive indication even when there are 100 ohms of resistance between the probes.
So how to make a continuity tester which has no such kind of drawbacks. This simple continuity tester circuit is built around a common 555 chip wired in astable mode. The continuity test circuit can precisely judge continuity as that low 6 to 8 ohms(which can be set by using the preset). Speaker is used to indicate continuity.
Simple Continuity Tester Circuit Schematic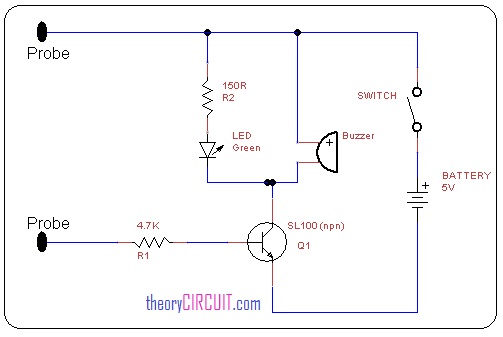 Components Required for Continuity Tester
NE555 IC
Capacitors (100pF, 22uF, 1ouF)
Resistors (2.2K, 1.5K, 100 Ohm)
Speaker
Test probes-2
Potentiometer (10K)
Working Principle of A Continuity Tester Circuit
Here 555 works in the astable mode of operation. Astable multivibrator working using 555 had been elaborately discussed in one of our previous posts.
555 is designed to generate a 2 kHz output frequency. You can use an Astable calculator tool for this.
The output of 555 is connected to an 8 ohms speaker.
As you know, 555 is enabled only when the reset pin(4th pin) is connected to Vcc. Here the 4th pin is connected to the ground through a 100-ohm resistor, so normally it is OFF. This speaker doesn't produce any sound.
One probe is taken from Vcc and another probe from the 4th pin, through a potentiometer.
When we are connecting the probes between the testing points, then the 4th pin will get a positive Vcc. Thus enabling 555 multivibrators and hence speaker will start to produce sound.
The potentiometer helps to set the resistance to determine the point when the buzzer should turn ON.
Conclusion
You can enclose this low-cost circuit in a suitable case and attach it with multimeter probes to have a device look.