In our normal practical life, we may face circumstances where we need a digital event counter in order to count certain events. Here I will give you some examples: people counter circuits in an auditorium, to count the number of products in a godown, to calculate an athlete's performance, and above all, all the digital clocks are basically counter circuits that generate a one-second clock. Here we are providing a similar kind of counter circuit diagram.
In this led 7 segment display counter circuit we are using a single digital counter IC (4026) both as a counter and 7 segment driver. A common cathode 7 segment display is used here. The IC used here requires only clock pulses for operation.
By increasing the number of ICs and seven-segment displays you can extend the counting limit up to infinity. This can also be made into a digital frequency counter circuit.
4026 Digital Counter Circuit Diagram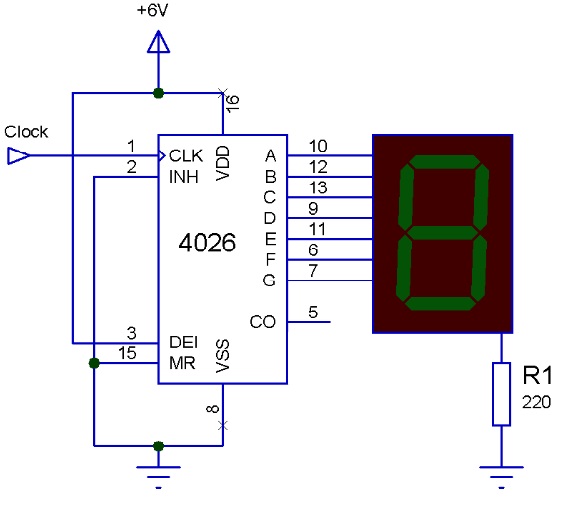 Components Required
IC 4026
7 segment display
Resistor 220 Ohm
6V power supply
Working of Digital Counter Circuit
IC 4026 is basically a decade counter (10 States – counts 0 through 9). Also it has an inbuilt 7 segment display driver which makes interfacing of 7 segment display easily.
4026 drives only common cathode seven segment displays. As the name indicating a common cathode seven segment display has its cathode shorted and grounded.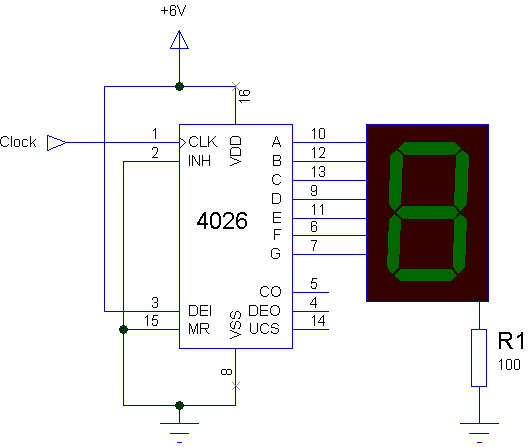 Pin 1 is the Clock input and Pin 2 is the clock inhibit which is used for disabling the clock. It can be used to pause the counting when desired.
Pin 15 (Master reset pin) helps to reset the counter. Pin 2 and 15 are active high, so we are grounding them to enable the counting process. They should be connected to Vcc for their respective actions.
Pin 3 is the display enable pin which enables the display.
Pin 5 is the carry output pin that generates a carry each time the count exceeds 9. It is used for extending the counting limit by connecting to the next IC's clock pin.
You can use a 555 astable multivibrator as the clock input.
For 2 digit display digital counter circuit 0 to 99 connect the carry out of the first IC as the clock of 2nd IC as seen below. You can increase the digits as much as you want by repeating the process with more ICs and displays.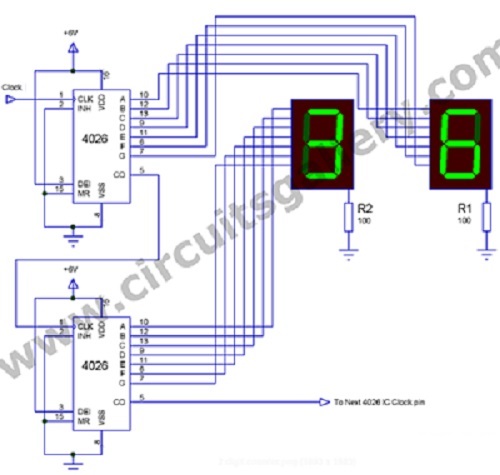 Resistor R1 is used as a current limiting resistor. You can vary the brightness of the display by varying the resistance value. But this brightness will not be uniform for each digit, Uniform brightness can be attained by connecting individual resistors for each anode segment.
Pin-out of 4026 Digital Counter IC and Display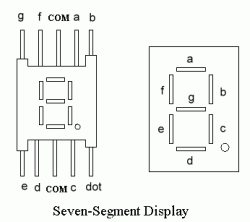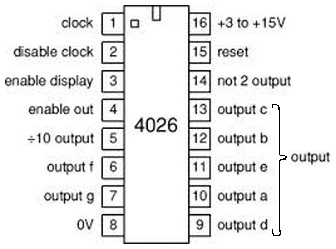 Conclusion
Here we have seen how to build a manual digital counter using 4026 IC. It has a reset and pauses feature that is very crucial most of the time. The seven-segment display will show the count value and this small circuit could be a very important part of your project.