This is a simple hobby circuit of a remote controlled toy car. The main component used here is the IR sensor circuit consisting of TSOP. Using a TSOP IR receiver we can start and stop the DC motor vehicle. However this circuit has a small disadvantage that it can't control the speed of DC car motor, rather it ON and OFF the small dc motors. Thus it is suitable for electronics beginners only.

Once it is ON, the motor runs with a constant speed. No speed control circuits are discussed here. The advanced version of this circuit with PWM speed controller will be posted soon. You must need a regulated power supply of 5 volt to do this one because TSOP requires 5v for its operation. Below is the circuit diagram and working of remote controlled dc motor for car using T sop infrared detector circuit.
Circuit Diagram of Remote Motor Controller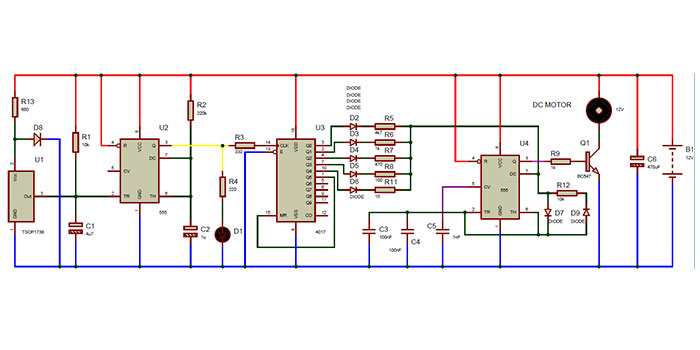 Components Required
9V Battery
7805 voltage regulator
TSOP IR receiver
IC 555
IC 7474
BC 548 Diode
1N4007
Resistors (220KΩ, 100Ω)
Capacitor (1μF)
DC Motor
Circuit Working
The maximum voltage of TSOP and 7474 is 5v. So we are using a 7805 voltage regulator IC which provides 5V output.
The output of TSOP is always 5V, and the output will be zero when IR rays strike it.
555 timer IC is biased as a monostable multivibrator. Normally its output is 0V, provided that voltage at the 2nd pin must be greater than 1/3Vcc
When the voltage at the 2nd pin goes below 1/3Vcc, output switches to high (5V) for the time interval T=1.1RC. After this time interval output returns to 0V.
7474 is a D-flip flop. It is wired in Toggle mode. i.e Q' to D input. 555 is used as a clock generator here.
When it gets a clock pulse output goes high and remains in that state till the next pulse.
On receiving the next pulse output goes low and remains in that state till the next pulse.
This process will continue. The output of 7474 is fed to the base terminal of BC 548/BC 187.
BC 548 is a driver transistor, when its base voltage is high current will flow through the load.
Here DC motor is the load and it will rotate only when the base voltage is high.
Diode Df is a freewheeling diode used to dissipate the stored energy in the inductor load.
Conclusion
DC motor is one of the most used components for small prototypes and projects. In this article, we tried to give you a simple explanation how it works.