How to create a dual power supply unit using a single battery for your lab purpose? Dual voltage power supplies are required particularly for op-amp experiments and some of the instrumentation amplifiers. Some low-power audio preamplifiers also use a dual voltage supply. Here is a simple dual power supply schematic capable of producing +9V, 0V, and -9V (dual polarity and ground potential) from a single 9V battery. You can create your own dual power supplies with different ranges of +Vcc and –Vcc such as +5V, 0V, and -5V or +12V, 0V, and -12V. This article gives the working and constructional details of the circuit schematic using a single battery source.
Circuit Diagram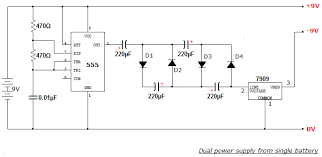 Components Required
NE555 timer IC
Negative voltage regulator IC 7909
Diode 1N4007
Resistors (470Ω, 0.5W x 2)
Capacitors (0.01µF; 220µF, 16V x 4)
9V battery
Working
Timer IC NE555 is configured as a free-running astable multivibrator oscillator. It provides approximately 100 kHz frequency. We have already discussed an astable multivibrator.
The frequency of the astable multivibrator depends on the values of capacitor and resistors associated with the 555 timer circuit. Our astable frequency calculator will help you decide them.
The oscillating voltage (square pulse) is made ripple-free using 1N4007 diodes and regulated to -9V by negative voltage regulator LM7909.
Use a 5V battery if you need to create a +5V, 0V, and -5V dual power supply unit.
The operating voltage of 555 timer IC is approximately between 3V to 16V, so by changing the battery supply you can implement the required dual power supply that varies from 3V to 16V other than +9V, 0V, and -9V supply.
Conclusion
Here we've discussed how to get a regulated dual power supply even if you have only one battery source. Two-level voltage sources are often required in many projects, this article will give you the perfect solution to this problem.