Pulse width modulation (PWM) is a method of changing the duration of a pulse with respect to any analog input. The duty cycle of a square wave is modulated to encode a specific analog signal level. The PWM signal is digital because, at any given instant of time, the full DC supply is either fully on or fully off. This pulse-width modulation tutorial gives you the basic principle of generation of PWM signal.
PWM method is commonly used for speed controlling of motors, fans, lights in varying intensities, etc (pulse width modulation controller). PWM signals may also be used to approximate time-varying analog signals. PWM is employed in a wide variety of applications, ranging from measurement and communications to power control and conversion. Pulse width modulation dc motor control is one of the popular circuits in Robotics.
PWM Generator Circuit Diagram
Here is the pulse width modulation generator circuit diagram (pulse width modulator) using op-amp.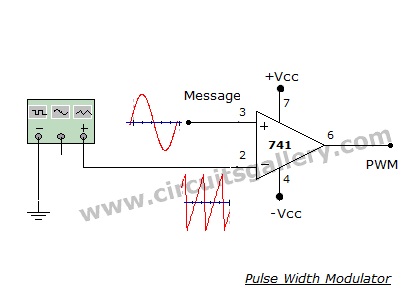 PWM Generator Circuit Requirements Using 741 Op-Amp
Dual power supply (+Vcc and -Vcc)
741 op amp IC
Signal generator
Working of Pulse Width Modulator
In this pulse width modulation circuit op amp acts as a comparator.
It compares both the input voltages- the sawtooth waveform and the message signal (sine wave).
The duration in which the instantaneous value of sine wave is above that of sawtooth, the op amp switches to +Vcc. It's because the sine wave input is connected to the non inverting input of the op amp.
On the contrary, when the value of sine wave is less than the instantaneous value of sawtooth, op amp switches to -Vcc.
Thus we get a pulse waveform swinging between +Vcc and –Vcc.
That is the pulse width changes according to the message signal (Width of the pulse is modulated)
Output Wave Form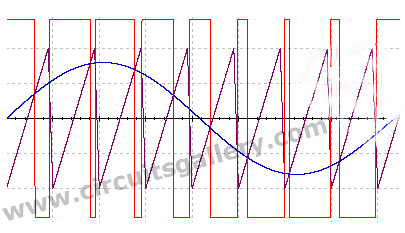 Important Terms Associated With Pwm
Period (T)
How long each complete pulse cycle takes
Frequency (F)
How often the pulses are generated. This value is typically specified in Hz (cycles per second).

Duty Cycle (D)
Refers to the ratio of time in the period that the pulse is active or high (T on) to the total time of a cycle (T). The duty cycle is typically specified as a percentage of the full period.

Simulation/Oscilloscope Waveshapes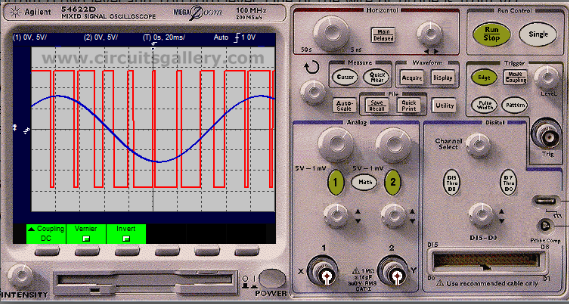 741 pin out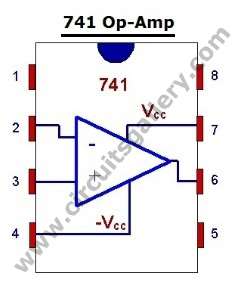 Conclusion
The output of PWM modulation is a duty-cycle varied square wave. The use of 741 IC in Pulse Width Modulation (PWM) Generator Circuit is so vital and versatile that you may do the modulation according to any sort of message signal you intend to. Besides, by the use of relays of required ratings, you can incorporate unprecedented controls and automation in your projects.