Here is a hobby circuit of a multi-channel remote control system, by which you can control 8 different appliances. The main sections of this multi-channel remote control circuit are the RF receiver and transmitter. By using this circuit we can control 8 devices, each of them independently by pressing the pushbuttons. When the button is pushed, the corresponding relay is turned ON and is turned OFF on the next push. Here the relay load current is dependent on the relay used. A serial encoder IC HT12E and a serial decoder IC HT12D are used, where the encoder IC encodes the parallel data to serial and the decoder IC decodes the serial data to parallel during the wireless transmission. You must need a regulated power supply of 5 volts for this circuit because ICs 7476 and 74138 require 5v for their operation. The main advantage of this system is that it does not require a 'line of sight' as compared to IR remote control systems; also it gives longer distance control.
Circuit Diagram of Rf Remote Control
Rf Transmitter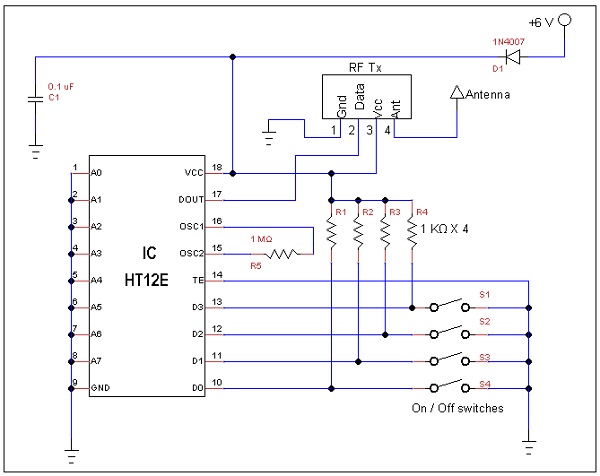 Components
RF Transmitter Module 433Mhz
RF Receiver Module 433Mhz
IC HT12E
IC HT12D
IC 7476 4Nos
IC 74138
Push-button 8Nos
Relay 12V,10A 8Nos
IC 74174
Transistor BC548
Resistor (750K,33K,1k 8Nos)
Working
The maximum voltage of TTL ICs is 5v. So we are using a 7805 voltage regulator IC which provides 5V output.
74147 is the priority encoder IC which generates the BCD corresponding to the pressed switch.
It is given to the serial encoder IC HT12E which converts the parallel BCD value to corresponding serial data to transmit through the RF transmitter.
The RF Transmitter transmits the serial data and the RF receiver receives the serial data, both operate on 434Mhz.
It is given to the serial decoder IC HT12D which converts the serial data to parallel.
It is again decoded by a 3 to 8 decoder IC 74138 to operate the relay.
The output of 74138 is the clock of JK flip flop IC 7476 which operates in toggling mode. (i.e. if one clock is received it inverts the output, thus it turns OFF the relays).
Components Pinout
Conclusion
Here we have briefly discussed the Multi-Channel Remote Control, which is a very useful part of any project. You can follow the above step-by-step instruction and fabricate your own.