Diamond is thermally conductive. It possesses high thermal conductivity at room temperature due to its three-dimensional tetrahedral structure.
However, diamond is electrically inert. This is because of the strong covalent bonds formed among the carbon atoms which creates a lack of free electrons.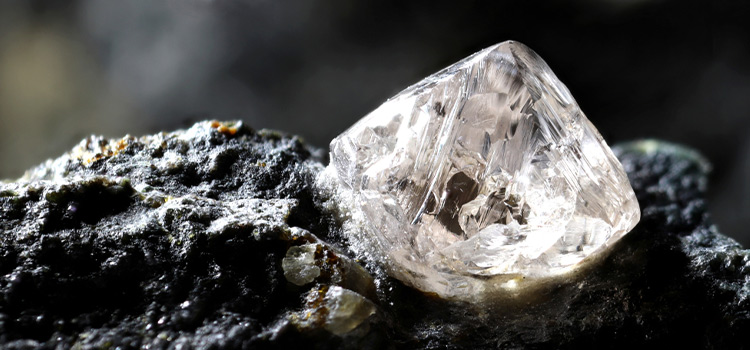 Is Diamond Conductive
Conductivity can be of two types, thermal and electrical. A diamond's conductivity can be seen in these two terms. The thermal conductivity of diamond shows how well it can conduct heat. On the other hand, the electrical conductivity will show how well a substance can conduct electricity.
A diamond has these two characteristic properties that are used to distinguish it from other materials. They also help identify the impurities in a genuine diamond.
Thermal Conductivity
As the most highly-priced gemstone, diamond has remarkable properties. Most diamonds are known to be extremely efficient thermal conductors. At room temperature, diamond is the best thermal conductor along with its carbon cousin graphite.
The heat conduction of diamond is due to the strong covalent bonds between carbon atoms in the diamond crystal. It has a thermal conductivity of around 2000 watts per meter per Kelvin, five times greater than that of copper. This property of high thermal conductivity is used to distinguish diamond from glass and cubic zirconia.
Electrical Conductivity
Despite being a good thermal conductor, diamond does not conduct electricity. This is because, for a pure diamond, there is no delocalized free electron on the outer shell of the carbon atom. These delocalized free electrons are responsible for the electrical conductivity of a metal.
In a pure diamond, the carbon atoms make covalent bonds with other carbon atoms. This results in a very electrical resistivity up to 1011 to 1018 Ohm-meter. The only exception is the natural blue diamond, which acts as a semiconductor due to the blue-colored boron impurities
Is a Diamond Electrically Conductive
A diamond acts as an electrical insulator. Because in the case of the diamond, each valence electron of every carbon atom forms a covalent bond with electrons of other carbon atoms. As a result, a tetrahedral arrangement is born. The hybridization of all the carbon in a diamond lattice is sp3.
Due to this, there is a lack of free electrons. Therefore, there is no medium for charge transport. This means that diamond is incapable of conducting electricity unlike other good conductors, where free electrons are readily available.
Is Diamond a Conductor or Insulator
The basic requirement for the conduction of electricity is the movement of electrons. These electrons act as charge carriers and their flow results in the flow of current. As diamond lacks free and delocalized electrons, it becomes a good insulator instead of a good conductor.
Despite being a bad conductor of electricity, diamond is a decent conductor of heat. This is because usually, most electrical insulators are thermal insulators as well. However, this rule does not apply to a diamond.
A diamond may have no free electron to transmit electricity but it has a 3D tetrahedral structure. Such structure allows it to transmit energy easily from one covalent bond to another. As a result, heat transfer is induced.
Can Diamond Conduct Electricity | Why
Diamond cannot conduct electricity. This is because, in a diamond, all of the outer shell electrons are compromised in making covalent bonds with other carbon atoms. As a result, there is no free electron and evidently, no current transmission.
Conclusion
Among all the other elements, diamond has the most unique set of physical properties that makes it alluring. These properties also sometimes make it confusing for many to sort out. Among them, diamond's conductivity is a property of great importance which is thoroughly discussed in this article.