Arctic Silver 5 is thermally conductive but electrically insulated. This allows it to dissipate heat from CPUs or GPUs more efficiently. However, it is slightly capacitive which is why it should be kept away from electrical components.
As a premium quality thermal adhesive, the Arctic Silver 5 offers superior performance and stability. Modern high-power CPUs, heatsinks, and water coolers require a more powerful solution to dissipate heat quickly. Arctic Silver 5 does just that.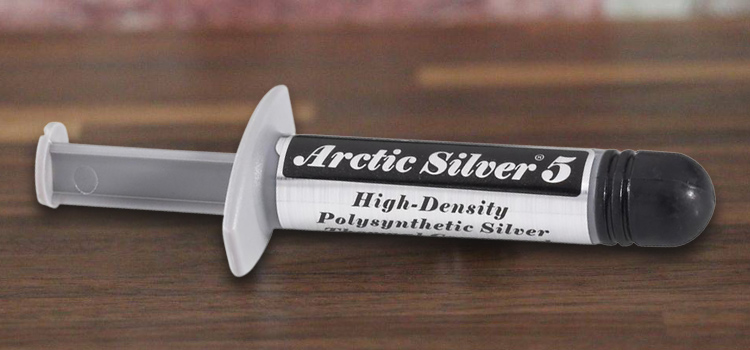 Is Arctic Silver 5 Conductive
The Arctic Silver 5 thermal adhesive was formulated in such a way that it cannot conduct electricity. However, it does indeed conduct heat. The unique sizes of the silver particles maximize interparticle contact area and heat transfer.
With that being said, arctic Silver 5 consists mostly of high-density micronized silver and thermally conductive ceramic particles. Such a composition enables extreme performance and stability.
Despite being a metallic thermal adhesive, it is optimized to create a strong bond between modern CPUs and high-performance heatsinks or water coolers. Moreover, it does so without conducting electricity.
Although the Arctic Silver 5 is fundamentally much safer than electrically conductive silver and copper greases, one should follow caution. It should be kept away from electrical traces, leads, and pins. This is because the compound is slightly capacitive and could create issues when it acts as the bridge between two electrical paths.
Is Arctic MX5 Conductive?
Arctic MX5 is a thermal paste that is composed of carbon microparticles. They fill the microscopic dents on the surfaces of the processor chips and cooler floors. This results in low thermal resistance and easier heat dissipation from the CPUs.
However, Arctic MX5 is not electrically conductive or capacitive as compared to thermal pastes based on metal oxides or liquid metal. As a result, there is no chance of short circuits and discharges.
Is Arctic 5 Thermal Paste conductive?
Arctic 5 is not electrically conductive. However, it is slightly capacitive which may create problems in the case of close-proximity electrical paths.
Although, the Arctic 5 thermal compound is thermally conductive. It is safer than electrically conductive silver and copper greases. That being said, the compound should be kept away from electrical traces for safety purposes.
What is the Thermal conductivity of Arctic Silver 5?
The Arctic Silver 5 thermal adhesive is composed of 99.9% of pure silver. By weight, it contains more than 88% of thermally conductive filler. Moreover, the thermally enhanced ceramic particles such as zinc oxide, aluminum oxide, and boron nitride improve the compound's performance and stability.
In the figures, the thermal conductance of Arctic Silver 5 is more than 350,000 W/m2 °C in a 0.001-inch layer. Whereas, the thermal resistance is less than 0.0045°C in2/Watt in the same layer size.
Is Silver Thermal Paste Conductive?
The thermal conductivity of a silver thermal compound may range from 3 to 8 W/(m. K) or more. It consists of micronized silver particles that are suspended usually in silicon or ceramic medium.
The ceramic medium includes aluminum oxide, boron nitride, or zinc oxide which are referred to as "fillers". As the weight percentage of the filler increases, the thermal conductivity of the silver thermal paste also increases.
Although, a silver thermal paste can be electrically conductive as well as capacitive. If a metal-based thermal paste flows onto the circuits, it can lead to damage and cause malfunction.
Conclusion
Arctic Silver 5 is a high-quality thermal compound that will help lower the running temperature of your CPU, GPU, or other power components. If you own a high-end PC and the temperature of the CPU or some other component is causing you stress, you should most definitely try the Arctic Silver 5 out.