You can indeed solder without a soldering iron. At first, find a heat source, be it small or large. Heat the solder or the steel wire to its apt temperature by maintaining proper safety guidelines. Afterward, simply apply the solder to the components or circuit board you want to solder.
Often in situations like load-shedding or scarcity of tools, you may need to repair or modify electronics to save time and day. Therefore, this rare skill of soldering without proper tools is vital for a technician.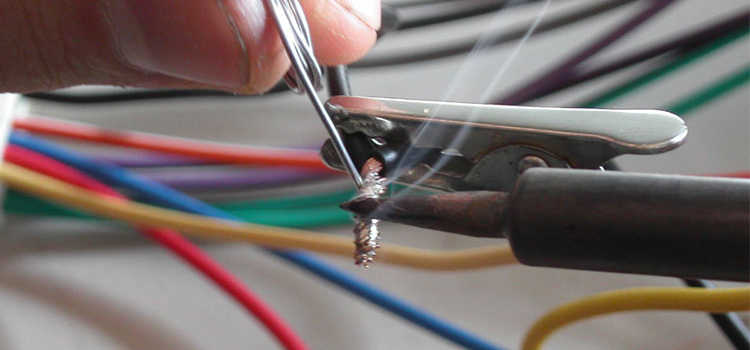 How to Solder Without Solder
In this section, we will provide step-by-step guidelines to help you understand how to solder without solder.
Step 1: Take Safety Precautions
As you are looking for alternatives to soldering iron, this project will require you to deal with heat sources such as an open flame. Therefore, you will need to take some safety measures before hopping on to the work.
When it's about fire, make sure you keep it contained and never leave it unattended. Keep the flammable objects away while working. If you are dealing with this for the first time, keep a responsible adult nearby. You can also wear fire-resistant gloves to avoid burning yourself.
Step 2: Find a Heat Source
Next up, you have to manage a heat source to heat your metal. It can be anything from a candle to a wood-burning fireplace. If you are working with a larger fire, you will need to do a few things differently.
You can simply attach the soldering tool to a non-combustible rod and heat it. For a large heat source, as the flame is difficult to precisely control, your soldering tool needs to be thicker to catch the heat better.
Step 3: Find a Replacement for the Soldering Iron
If you are working with a circuit board, you cannot just expose your board to a heat source directly. You need to find a replacement for the soldering iron. Steel is a good option as a soldering material instead of copper or aluminum due to its good heat retaining properties.
Attach a piece of steel to a non-combustible rod and heat it using the heat source. To reach the appropriate temperature precisely, bend the steel rod to increase its thickness.
Step 4: Heat the Wires Directly
In case you need to solder your wires, the method is the simplest and requires little effort. You need to take two wires and strip off the insulation for about one inch at the ends. Then twist the wires tightly to join them together.
Heat the ends of the wires using a candle or some light heat source for about 20 seconds and then apply solder to the other side of the exposed section. If you see the solder is not readily melting, apply some more heat to the wires.
However, be mindful of the fact that if you apply solder to the heated area, soot and other chemical residues will build up. As a result, the solder will not stick properly. Once you are done with soldering, cut off the unsoldered section of the exposed wires.
Step 5: Make Custom Soldering Irons for Small and Large Heat Sources Separately
Small heat sources such as lighters and candles require a small soldering iron. If you do not have an actual soldering iron, you can make use of a 14 gauge steel wire. Bend the wire over and transform it into an appropriate shape to increase its thickness.
Heat the section of the metal that is 1/2" from the end. Leave the metal to heat up for 10 to 20 seconds. Once done, quickly move it to the circuit board or components you want to solder.
As for a large heat source, take safety precautions as mentioned before. Use a tool that will allow you to work at a safe distance. You can simply make use of a long wire or attach your soldering material to a non-combustible rod such as steel rebar.
As mentioned already, a thicker metal will allow it to retain more heat. However, it is difficult to properly control the heat from a larger heat source. Therefore, fold the end of the wire over multiple times and make the tip thicker.
Conclusion
The skill of soldering when no soldering iron is available comes in handy in many situations, especially when you are an electrical technician. To avoid getting into pickles, you can always include a small amount of soldering material in your backpacks or kits.