A GPS (Global Positioning System) navigation device precisely computes geographical location by receiving the necessary information from GPS satellites. GPS modules are widely used in object tracking or location tracking and to indicate the path or roads available helping to reach the desired destination easily. They are used in many applications such as in aeronautics, mining, military, etc. When a GPS module is configured in a system it continuously sends GPS values depending on its exact geographical location. Then by default, it will send some other information depending on their applications.
Most communication-related engineering projects are based on the GPS module. All GPS modems need to be connected to a computer system to verify their output. This computer may be a laptop or desktop or any other one. Hence depending on the computer and connector specifications, connections can be made through serial or USB ports and also via Bluetooth. So in this article, I am going to give you a brief explanation of how to configure the GPS modules to get desired output.
Components Required for Configuration of Gps
GPS Module
USB to Serial Converter (If PC has no serial port)
Steps for Gps Module Configuration With USB Interface
For the configuration of GPS, the first step is downloading and installing the GPS configuration software. Here I have preferred the SiRFDemo software. Before installation please ensure that your system has the basic requirements needed.
Also, ensure that USB to serial converter driver software has been installed on your system, and then find the COM port from the Device Manager in the control panel.
Now connect the GPS module with your system using USB serial converter.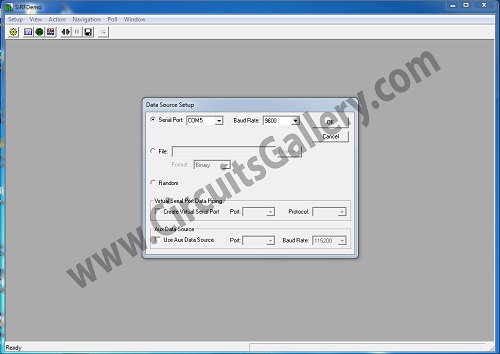 Then open SiRFDemo software and define COM port and Baud rate as 9600, and then click on the OK button.
Then open Data source in the Action menu, before that please ensure that the GPS antenna is placed in the open space and not inside the building.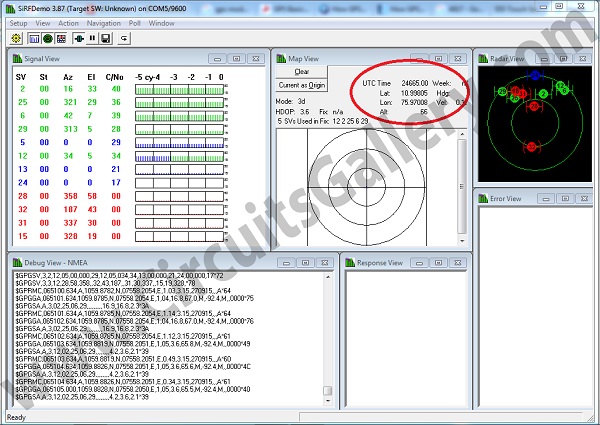 Then you can see latitude and longitude values on the window as shown in the snapshot above.
Now click on 'Switch to SiRF Protocol' in the Action menu as shown below.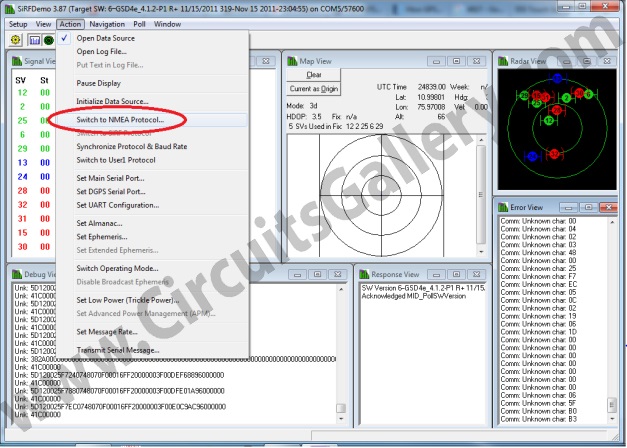 Then click 'Switch to NMEA Protocol' in the Action menu as shown in the figure below.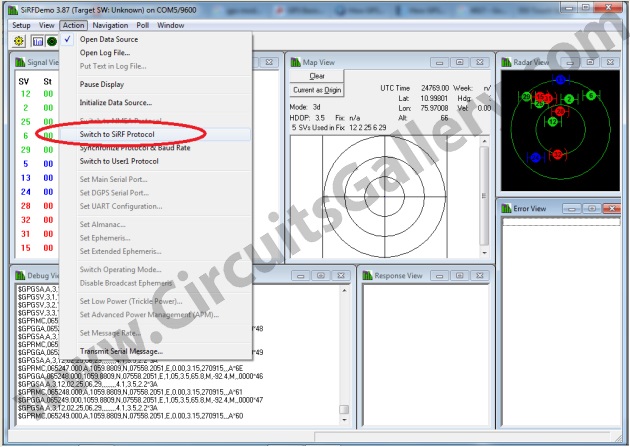 Now enable or disable the required NMEA sentences on' NMEA Setup' and then click on Send button.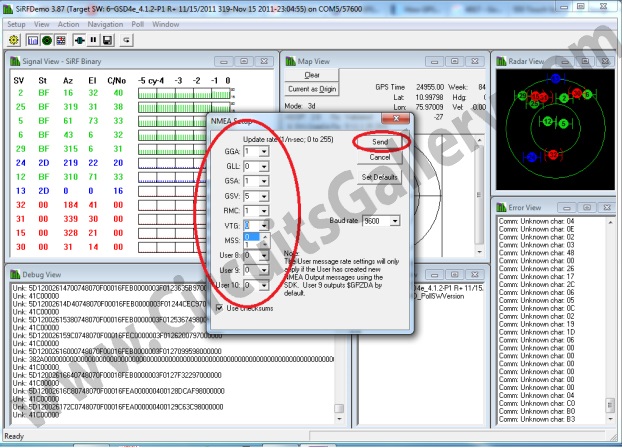 Now your GPS module is restarted with configured values.
You can also enable VTG using this command "$PSRF103,05,00,01,01*20″.
Conclusion
Here we have described the system configuration of GPS using SiRFDemo software and you have seen how easier it is for configuring the GPS modem with your computer. Hope this article will be helpful for doing your GPS-based engineering projects.