Do you think that you can control your home and office electrical appliances using your cell phone? Yes.! you can… Here is a simple home controls home automation electronic mini project circuit diagram for engineering students, to control any electrical appliances using a mobile phone without using a microcontroller. This circuit makes use of the DTMF (Dual Tone Multi-Frequency) technique. We have already posted on What is DTMF and DTMF decoder circuits using M8870 decoder IC.
This home appliances control or home automation project also uses the same DTMF decoder circuit section with little modifications to control home and office electrical appliances. Just connect your cell phone headset (headphone) jack to the mobile phone and then the mobile will control electrical appliances and electrical equipment through the DTMF keypad of your cell phone. Here for demonstrating, we are controlling an electrical bulb using this circuit project but you can extend this circuit to control many electrical devices with some modifications using a 4×16 decoder IC.
Circuit Diagram of Mobile Controlled Home Appliances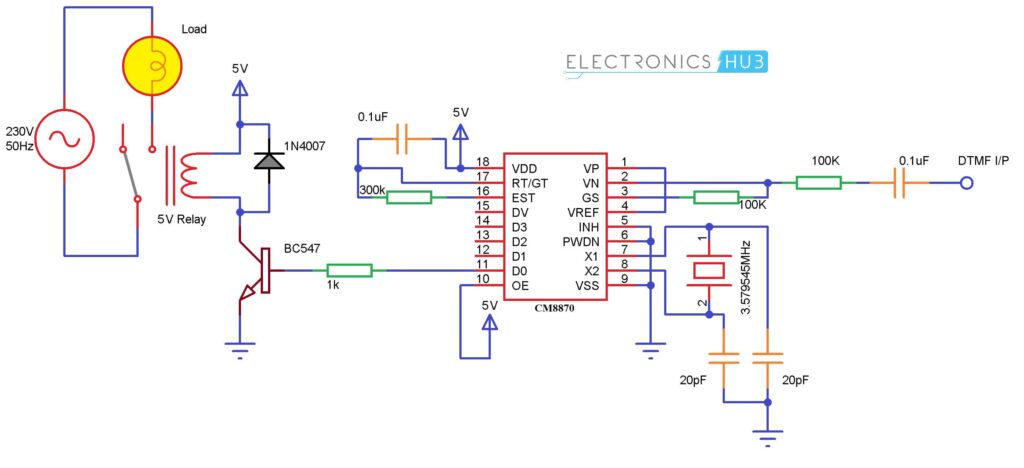 Components Required for Home Automation
DTMF decoder IC (M-8870)
Resistors (100Ω; 100kΩ; 70kΩ; 390kΩ)
Capacitors (0.1µFx 2)
Crystal oscillator (3.579545MHz)
IC 7474 D flip flop
BC547 Transistor
6V relay
Working on This Home Automation Electronic Project
Our project uses M-8870 DTMF decoder IC which decodes tone generated by the keypad of a cell phone.
When you press any key on your mobile phone while a call is in progress, the other person will hear some tones corresponding to the keys pressed. These tones are based on the DTMF (Dual Tone Multi-Frequency) technology.
Data is transmitted as pairs of tones. The receiver detects the valid frequency pair and gives the appropriate BCD code as the output of the DTMF decoder IC.
DTMF signal can be tapped directly from the microphone pin of a cell phone device.
See the figure below. Cut the microphone wire and you will be able to see 4 wires. Among these wires, you need only 2 wires- Ground and Right as shown in the figure.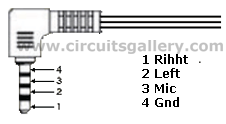 Select the right wire and connect it as the DTMF input to the decoder circuit. The ground should be connected to the common ground of our circuit.
The signals from the microphone wire are processed by the DTMF decoder IC which generates the equivalent binary sequence as a parallel output of Q1, Q2, Q3, and Q4.
Table Showing Dtmf Low and High-Frequency Tones and Decoded Output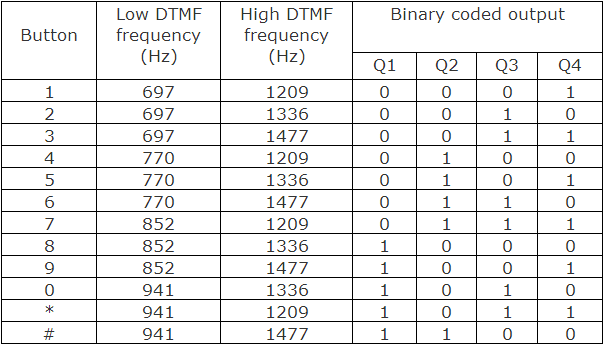 The output Q4 from the DTMF decoder IC is fed to the clock input of IC 7474 D flip flop which acts as a buffer to the output from M8870 DTMF decoder IC.
IC7474 is configured as Toggling mode, that is if it gets a clock pulse the output of this IC (Pin 5) sets to high and further clock pulse resets back the IC. (The outputs toggle whenever a key is pressed).
When we press and release any of the keys among 1, 3, 5, 7, 9 and *, the DTMF decoder IC generates a high pulse which acts as a clock to our flip flop and sets the output flip flop to high.
The output of flip flop is connected to the relay driver circuit via 100Ω resistor; this output energizes the relay coil through BC547 transistor and turns ON the bulb that is connected at the normally open terminal of the relay circuit.
Conclusion
Here we've learned how to build a home appliances automation project that can be controlled by a mobile phone. It is a perfect project for a science fair and as well as could be used at the home. By following the above instructions you will be able to fabricate the project within a short time.