Inverter circuits are too many. Now I think it's time to introduce an inverted that has one of the best inverter efficiency. And we will build the 12v to 230v inverter circuit using PWM IC SG3525. This is an SG3525 based inverter schematic. Here we are mainly using the internal oscillator of PWM SG3525.
By using the principle of dc to ac conversion (DAC), such an inverter system helps to prevent the problem of power failure in homes, offices, etc. And as the system converts dc to ac, it has got the name inverter.
Note: You can buy this 12vDC to 120vAC inverter from our online stores.
Features of IC SG3525 SMD
SG3525 IC is a pulse width modulator integrated circuit. Its specialties include-
Wide operating voltage range from 8 to 35V
Inbuilt oscillator and frequency range 100HZ to 500KHz
Input and output synchronization terminals
Variable dead time controller
Soft-start facility
Smooth shut down facility
Input voltage checking facility
Dual source/sink output driver
Single Phase Inverter Circuit Diagram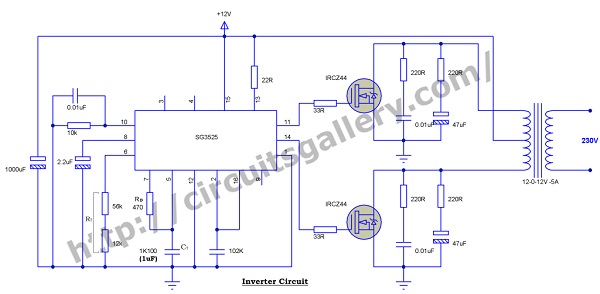 Components Required
SG3525 IC
MOSFETS IRF Z44 x2
Resistors (22,10K,56K,12K,470,33×2,)
Resistors(220×4 ½ watt)
Capacitor (0.01uFx3, 1000uF/25V ,2.2uF/25V ,1K100,102K, 47uF/25Vx2)
Transformer 12-012V /5A step down transformer (we will use as step up)
Working Priciple of 100 Watt Inverter Circuit
SG3525 has an inbuilt oscillator. Its frequency can be determined by connecting capacitor and resistor on pin 5 and pin 6 respectively.
The frequency of oscillation can be calculated by the equation:

Output is taken from pins 11 and 14 which are connected to the gates of Mosfets.
Pins 11 and 14 operate as totem pole configuration or a push pull manner. It never turns ON two pins at the same time.
The signal from two pins 11 and 14 are connected to the gates of power mosfets IRF Z44. They switch current to each winding of the transformer.
Only one winding is activated at a time and both are energized in opposite directions.
Activation of winding in opposite direction helps to produce an alternating EMF. Thus it produces alternating current (AC) on the secondary of the transformer too.
The frequency of the output AC is 50Hz which is determined by the CT and RT pins of SG3525(pin 5 and 6).
Components Pin Out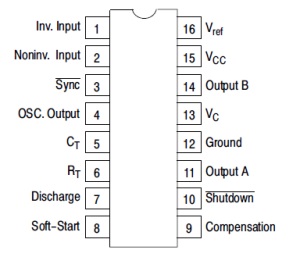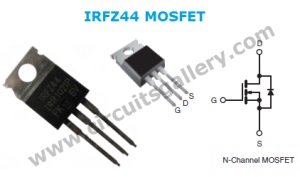 Conclusion
Building a 12v to 230v inverter circuit using PWM IC SG3525 is an efficient way of getting ac power from a dc power source. Getting familiar with the pulse width modulation IC may take a while. But once handled well, simulation and designing the circuit is quite easy.